Coin Laundry
Funding in a coin laundry venture is one of the brightest moves you can make, with almost 40% return on investment and a consistent revenue stream. At Altimus Distributing Inc., we understand that coin laundromats are recession-proof, give flexibility, below-average original costs, and buyer independence. These qualities make coin laundromats the smart choice for potential partners and owners. If you're interested in starting up your new venture, call us today. Altimus Distributing Inc., is available to assist you every step of the way–-learn more about the lucrative world of coin laundry!
---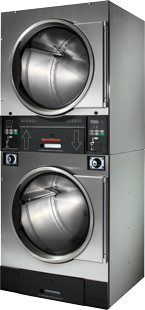 The world's biggest commercial laundry company, Speed Queen is an innovative leader in fabricating commercial laundry equipment for the vended laundry market. Speed Queen's record speaks for itself with a legacy of demonstrated production and reliability. All Speed Queen machines are made with sturdy industrial-grade components and are built to last. Discover the precise washer and dryer to meet your vended laundry needs with this comprehensive analysis of machine characteristics and profit-increasing traits.
Converting the laundry room in multi-housing properties from a mere utility for tenants to a fantastic convenience helps maintain occupants and gives your business a leg up against other properties. Speed Queen Multi-Housing Laundry Equipment has unmatched dependability, energy performance and production for apartments, condos, colleges and universities, military bases, and other multi-housing properties. Speed Queen machines are designed with abundant, user-friendly controls, winning designs, and time-saving innovations that keep residents and business owners happy. Regardless of the Speed Queen machine that fits your multi-housing laundry room, you and your tenants will enjoy the following features.
---
Quantum Controls
Quantum® Controls represent the most sophisticated technology on the market today, uniting equipment, programming and multi-housing facility management into one versatile system. Working in tandem with your Speed Queen washers and dryers, your LSP can program your machines to:
Easily manage your laundry room with remote internet access from any computer in the world.
Establish multi-level pricing and soil-level cycles.
Track coin or card transactions.
Quantum Controls offer an easy-to-read digital display that allows residents to see how their load is progressing and ensure that machines turn over quickly.
Let your residents choose up to 27 cycle combinations to provide the proper temperature and soil level selection for maximum efficiency and user preference.
Multi-level vend options allow you to set varying vend prices for hot and warm wash cycles and medium and heavy-soil loads.
Give residents the option to purchase additional top-off dryer time before the initial dryer cycle has been completed.
---
WashAlert with Service Alert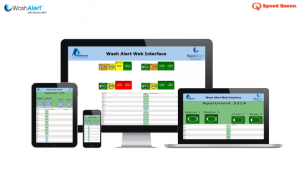 Speed Queen's WashAlert™ with Service Alert System is the ultimate in multi-housing laundry technology, providing a revolutionary new solution for apartments and condos, universities, and other multi-housing facilities. This premium add-on to our Quantum Controls provides remote laundry room access that connects your laundry room to a central computer network, allowing you greater control over your laundry and allowing your residents to use the laundry more efficiently and conveniently.

For You and Your Property
Service Alert: Real-time information on everything you need to know about your laundry room operation. From vend errors and auto restarting to auto-notifications that let you know when a machine needs servicing, Service Alert reduces downtime and ensures that your laundry room is operating at peak efficiency.
Remote Restart Capability: If a resident is charged money for a machine that doesn't start, you can remotely restart the cycle right away, limiting non-payment claims.
For Your Residents
Enhanced Networking Systems: Residents will be able to check a website or your property's cable channel to see the status of their laundry, including wash cycles and time remaining. They can also determine which washers or dryers are currently available and when those that are in use will next be available.
Email & Notifications: Residents simply provide their email address, and they will receive notifications when a cycle is complete.
---
Micro-Display
Offering the most essential features and programming options, the Micro-Display Control (MDC) on Speed Queen® commercial washers and dryers is user friendly and features an attractive, easy-to-read design.
Coin Countdown Start: Displays vend price and countdown coin and cycle time.
Touch Pad Control: Offers touch pad selection combines both temperature and cycle.
Sound and Light Indicators: Indicate cycle status and coin validation.
Activation Options: Available with Coin Drop installed, Card Ready or Coin Ready models.
Manual Programming and Audit: Program and audit use via the control panel.
---
Coin Slide
Speed Queen® offers a complete range of coin slide operated laundry products to meet the basic needs in multi-housing dwellings.
Two Washer Control Options: Available for one- or two-speed motor; two-speed offers normal/gentle wash and fast/slow extract.
Six Wash Cycles: Features six total cycles, including three "water saver" cycles: Normal, Perm Press and Delicate.
Three Wash Temperatures: Offers user-selected options for Hot, Warm or Cold wash temperatures.
Four Dryer Heat Cycle Options: Choose from Normal, Perm Press, Delicate and No Heat.
Learn more about all of the Speed Queen Multi-Housing Laundry Equipment to find the best machines for your multi-housing laundry room by contacting our laundry experts online or by calling (800) 999-9816.
---
Speed Queen Product Information
---
Coin Store Ancillary Products
Altimus Distributing Inc., is a full-service distributor of coin laundry equipment and accessories for your Laundromat. As such, we have the ancillary products needed to add that extra value to your business and help you to control your costs and profits.
Please contact a sales representative for best solutions for your coin laundry needs.
labelWater Heaters

If you are concerned about utility consumption and the costs associated with your bottom line, then Hamilton Engineering can help. Parker Boiler, NATLO, and Hamilton Engineering offers commercial and light industrial water heating systems. They manufacture energy-saving hot water heaters for commercial coin laundries. With twenty-five years of experience in the coin laundry industry, they are able to customize their products for your facility. Using their CompSize program a properly sized system will lower your monthly gas bill, increase your profits, and alleviate potential problems associated with over-sizing and short cycling as well as under-sizing a hot water heater.

labelLaundry Carts

For over sixty-years, R&B Wire Products has been manufacturing wire, tubular and steel related laundry products serving the coin laundry industry. R&B Wire has a wide range of products and Altimus Distributing, Inc. is proud to distribute all of them.

labelBill Changers

American Changer and Standard Changer both have been proven in the industry for years. Each manufacturer has a wide range of products to fit your specific needs, and our sales representatives are experienced with each manufacturer and are able to help you determine the product that will best fit your needs.

labelSoap Vending

Vend-Rite Manufacturing has been serving the coin laundry industry since 1952. With a wide range of soap vending machines, Altimus Distributing, Inc. will be able to provide you with perfect fit. Altimus Distributing, Inc. is able to quickly your selection to your door.

labelBulkheads

Duncan Fabricating provides custom built bulkheads designed to fit in any commercial washing machine arrangement. The unit houses your specified plumbing and electrical for quick hook-up. With removable panels to provide easy access to washers, Duncan Fabricating is truly able to meet your needs.

labelTables and Chairs

Offering a wide range of quality products at a good price Sol-O-matic has what a coin laundry owner needs. Tough, durable, rugged, versatile and appealing to the eyes products best describe their offering. Altimus Distributing, Inc. is able to assist you in any way to identify, order, and install any of these products.
---
Coin Laundry Card Systems
There are several ways to increase value to your coin laundry systems. One is to utilize a laundry card system. By reducing many hassles for you and your clients, you can create a better experience for them. These systems are high-tech and fun! Do away with quarters and costly change machines–add a card system! They allow the owner to control expenses, manage machine pricing more precisely, and increase store security.
labelESD

ESD is an industry leader in the development of innovative, cost-effective, and flexible electronic payment systems. Our payment solutions are engineered to simplify laundry management, enhance laundry equipment functionality, heighten laundry room security, improve revenue, and benefit laundry operators, owners, and users.

Offering the ultimate in flexibility and ease of use, ESD electronic payment systems come in a variety of models to perfectly fit an array of needs. While some are stand-alone systems that use loyalty SmartCards, others operate using high-speed WIFI and work with coins, credit cards, debit cards, loyalty SmartCards, and Electronic Benefit Transfer cards.

labelLaundryCard

LaundryCard is a holistic laundromat solution that gives store owners all the tools they need to succeed in one integrated system. Say goodbye to counting coins and hello to custom loyalty cards, on-the-fly reporting, custom marketing tools, employee management and remote management.

If you are looking for a 'Card Only' solution for your Laundromat, look no further. LaundryCard is perfect for new and existing stores with 40 or more machines.